This is going to turn into a love song to one beer because I don't remember any beer I had except for the one I had Sunday night. I'll try not to talk about it right away, but I want to talk about it right now. Let's see... there must have been something else that I had that was good... let's see.
Thursday
[nothing]
The Winter Meetings for baseball have the best bar scene around, especially when someone drives in Zombie Dust for you. Otherwise, it's not about beer, it's about talking about baseball, with beer. And that beer made me want to Take Wednesday, and Thursday, off from drinking.
Friday
Drake's Foraging Racoon IPA
Drake's Tree Beer IPA
Lagunitas IPA
Friday, we went to see Weezer, Death Cab for Cutie, Chvrches, Foals, and some other bads. We had to pee so we stopped at Drake's, or she had to pee and I said Drake's was close, close enough. I had the fried chicken sandwich (thousand island, plus pickles and something spicy) and she had a salad that was too vinegary and we shared the tots with meat on them. That stuff was good.
The beer? More so-so. We got the Drake's 1500, which I love, but that day at the brewery, I got none of the aroma from the dry-hopping, and it was flat and boring. I decided not to list it. The Tree IPA was the piney-ist beer I've ever had, in a bad way. It was licking a pine tree. Sometimes one note is too much.
But the Foraging Racoon was important for them. Apparently, they force every single one of their beers through a Carbon filter. Boring. It robs the beer of mouthfeel and thickness for the most part. Their 1500 is great because they dry-hop the crap out of it. The Foraging Racoon had some of that grassy thick mouthfeel you like from some today's best beers, like the one I had Sunday that I'm still not trying to talk about. But they didn't know what hops where in it, and it wasn't super fruity or anything. But it was still pretty good.
Saturday
Blackberry Farm Fall Saison
Stay out till after midnight with two toddlers at home and no matter how restrained you were, you don't feel good the next day. That's why one beer.
At least it was one really good beer. The Blackberry Farm saison is barrel-aged, but inside those barrels were fresh, bright saisons. So you get the notes of wood, and the brett provides the funk, but you don't get that full, alcohol and wood and thickness blast you normally get from barrel aged beers. It was under six percent alcohol, but you still get pepper and bubblegum and fun. A nice way to finish off a tired day.
Sunday
Tree House Lights On American Pale Ale
Tree House Julius IPA
I didn't have a lot of beer this weekend, but what I did have was amazing. The Lights On was a really nice little session-type beer. With that same unfiltered thickness but also light and free, the Lights On was a great first step for the night. Fluffy mangos!
Oh but the Julius. The Julius. Can one thing be all these things at once? Thick, bright, fresh, fruity, citrussy, clean, big, rounded, classy, ridiculous, serious, fun, quick, and long. It is. I promise. It's got the thick grassy mouthfeel that makes you think of the Julius part, and yet the citrus that gives you that Orange vibe, and then they added mangos and the tropical fun. And of course it's hoppy, but it's not that old-school piney bitter hop. It's just a way to add fruit and yet also finish off the taste with the quickness that makes you want to keep drinking. Just look at how beautiful their beers look.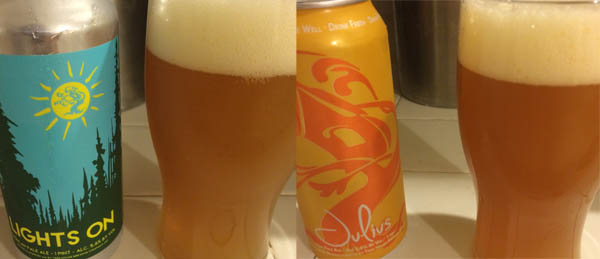 Cellarmaker, Sante Adairius, Trillium, Fieldwork, Tree House... that's about the end of the list of brewers making beers like this right now. I'm sure we'll see more. I hope we'll see more.