If you're a brewer, you have to know about this website. Maybe you know most of the information on YCHHops.com, but do you know all of it?
Check out how nicely put together the visuals are on the chemical information for Citra, housed here.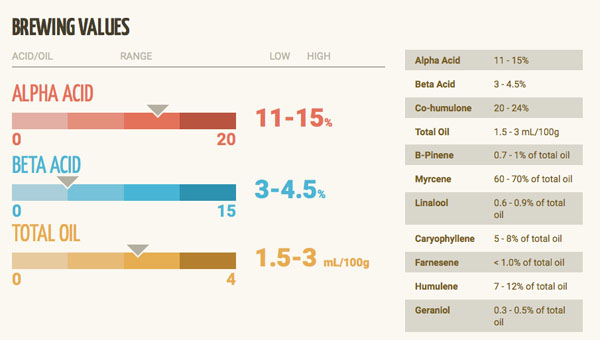 I don't even know what half that stuff means. I'm guessing it's useful.
I would say that the summary text could be more useful for the lay man, if the lay man were hoping to use this site to differentiate better between beers he might like.
AROMA PROFILE: CITRUS, TROPICAL FRUIT Developed by Hop Breeding Company and released in 2007. Citra® HBC 394 cv. features fairly high alpha acids and total oil contents with a low percentage of co-humulone. It is tolerant to downy mildew and powdery mildew with good pickability of dense, medium sized cones. Comprised of Hallertau Mittelfrüh, US Tettnang, Brewer's Gold and East Kent Golding.
All I really want to take away is that first line, and I want more there. Of course, the goal for Yakima Chief and Hopunion LLC, a newly merged company that links hop growers to hop providers to create a one-stop shop for brewers, may only be to provide professional level information to breweries. Maybe, as YCH grows, and if they decide to do more direct sales to homebrewers, we will see more information about how these hops taste and smell...
... and perhaps even some beers that have been brewed with them. Because that's the holy grail. Imagine being able to sort our leaderboards by hops you like! Imagine finding out what hops you like by creating your own custom leaderboard and then having it spit out hops! Imagine the future!
But first, this cool site. Then, hopefully, more detailed and complete information about the hops in each beer. Someday.