A Tree (House) Grows in Monson
Something is brewing in Massachusetts.
Monson—located in the mid-south section of the state about 10 minutes north of the Connecticut border—a tiny town of just under 10,000, is home to one of the most popular and sought-after craft breweries on planet earth: Tree House Brewing Co.
Meanwhile, 72 miles east in Boston, Trillium Brewing Co. is pumping out beer considered by many to be just as good as if not better than Tree House. Trillium's two locations and substantially greater output have made their beers easier to obtain than ever, but no less sought-after by the beer community.
While Trillium's and Tree House's anecdotal reputations among India Pale Ale (IPA) lovers is nearly flawless—as an unabashed hophead and IPA obsessive myself, I've had the distinct pleasure of getting to enjoy a plethora of Trillium's hop masterpieces and a handful of Tree House's hard-to-obtain obscenely-hopped pales myself and am happy to report that they are indeed among the best in their respective styles that I've ever had—a deeper dig into the numbers reveals just how influential these small breweries have become.
There are a variety of beer rating platforms available to consumers—and seldom agreement on whether any of the available platforms is the "best" or "most reliable"—but for the purposes of this essay we're going to utilize BeerAdvocate. Like any other online rating system its "Top Beers" lists can be subject to the influence of hype on its core user group, which in turns leads to confirmation bias ("if all of these other like-minded souls thought this beer was amazing, then it must be amazing"), but in my experience the ratings for the beers in the categories I drink more than anything else—American Imperial / Double IPA, American IPA and American Pale Ale (APA)—frequently align with my own interpretations of said beers, and so I generally find BeerAdvocate's lists to be a (mostly) reliable guidepost.
As of this writing, Tree House's and Trillium's hoppy pales—I'll be using hoppy pales as shorthand to describe beers classified as American Imperial / Double IPA, American IPA and American Pale Ale (APA)—dominate BeerAdvocate's lists like no breweries I've seen since I started semi-regularly checking the website's rankings more than four years ago. To wit:
Trillium and Tree House combined have 13 hoppy pales in the top 50, 20 in the top 100, and 29 of the 97 hoppy pales total [see Figure 1] on BeerAdvocate's Top 250 Beers (in the world) list.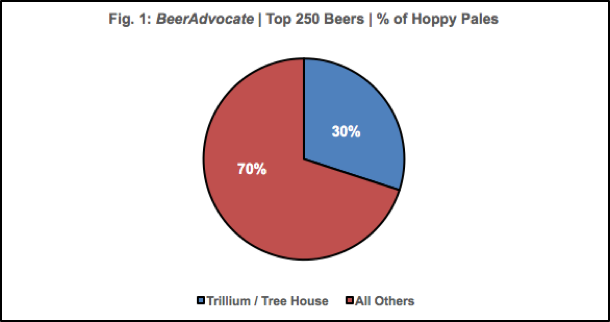 In the American Double / Imperial IPA (ABV range: 7-14%) list, Trillium has 11 of the top 100 (easily the most by one brewery), while Tree House has 8 of the top 100, with 5 of those appearing in the top 10—four of the top 5!—and the top two Double IPAs overall in Very Hazy and King Julius, dethroning longtime standard-bearers Pliny the Younger and Heady Topper.
In the American IPA (ABV range: 5.5-7.5%) list, Tree House has 7 of the top 100, with 5 of those appearing in the top 10—and three in the top 5— and the number-one American IPA overall in its flagship Julius. Trillium has 10(!) of the top 100.
In the American Pale Ale (ABV range: 4.0-7.0%) list, Trillium has four of the top 10, and 11 of the top 100. Tree House has 5 of the top 100.
Here's where things start to get even sillier. In the New England regional top 100 list—which includes all beer styles, not just hoppy pales—Trillium and Tree House combined have 36(!) of the list's 71 hoppy pales [see Figure 2], including four of the top five and seven of the top 10.
And in the Massachusetts top 100 list—again, all beer styles—Trillium and Tree House combined have FIFTY-THREE of the state's 58 hoppy pales on the top 100 [see Figure 3], including EVERY HOPPY BEER in the Top 50. You literally don't see an American Double IPA / Imperial IPA, American IPA or American Pale Ale by a non-Trillium or Tree House brewery until 70th place on the list!
How did both of these breweries get to this point each with less than five years in the business? No discussion of Trillium's and Tree House's impacts on the craft beer world would be complete without a brief history lesson surrounding the vehicle that has been responsible for driving much of each brewery's growth: the Northeast-Style India Pale Ale (or NEIPA).
A note on Nomenclature

While the Northeast-Style IPA nomenclature will be used throughout this piece, as a general rule of thumb when you see that phrase it's usually going to represent shorthand for any of the hoppy beer styles being produced within the category: Double India Pale Ale, India Pale Ale or American Pale Ale. It's easier and simpler to use "Northeast-Style IPA" as a catchall for these types of beers instead of typing out all three each and every time.
What is the Northeast-Style India Pale Ale?
For starters, one doesn't get this far without producing exceptional liquid. World-class is a phrase that gets tossed around an awful lot these days, but it's about as apt a superlative as any for the beers that Tree House and Trillium are releasing every week. While neither brewery technically invented what a growing number in the beer world have come to refer to as the Northeast-Style IPA—most would probably cite Vermont's vaunted trio of Hill Farmstead, The Alchemist and Lawson's Finest Liquids as well as Maine Beer Co. as the progenitors of the movement, although it's also worth noting that many of that quartet's hoppy beers almost represent something of a bridge between the west coast and the newer Northeast-Style—Tree House and Trillium have done more to advance the popularity of the categorization than any other.
So what the heck is a Northeast-Style IPA? While not an officially recognized category by the Beer Judge Certification Program (BJCP) or any of the online ratings sites—and I'm not calling for the creation of a new style designation, not to mention the brewers that have popularized it don't seem particularly eager to refer to it as such—it almost certainly deserves its own nomenclature (and this isn't the first time I've written about it) given that aside from a liberal use of hops, the end result looks and tastes virtually nothing like its more well-known West Coast-style brethren.
The American India Pale Ale came to prominence on the west coast, due largely to aggressive hopping schedules the likes of which few had previously contemplated, leading to a seemingly endless hops arms race of increasingly abrasively bitter beers boasting larger and larger alcohol-by-volume percentages. The hallmark west coast flavor profile is oftentimes a mix of fruity and pine flavors accompanied by marijuana-like aromas. The appearance is generally crystal-clear thanks to the high flocculation of Chico (or American Ale) yeast and filtering, and mouthfeel sometimes described as chewy, both from the malt bills and crushing hop bitterness due in part to heroic amounts of early-boil bittering hops (for those not deep in the weeds of brewing technique, the Cliffs Notes version of bittering an IPA holds that the more and greater hop additions earlier in the wort boil impart the stark bitterness many associate with IPA; while late-and post-boil hop additions give way to a significantly less bracingly bitter taste and a more fruit-forward, smoother and "juicier" flavor profile).
The Northeast-Style IPA has completely flipped what many think of as the India Pale Ale on its head. Whereas previously brewers of IPA were concerned with making the bitterest beer possible, perceived bitterness has taken a substantial backseat to coaxing out softer, massively tropical and citrusy flavors that linger in the most pleasant manner possible.
While recipes and ingredients vary from brewer to brewer, a rough framework of how one might arrive at this flavor combination can include the following techniques:
treating the water profile with things like gypsum and/or calcium chloride to help lower the mash pH;
utilizing white wheat, wheat, two-row barley and/or other specialty malts and occasional adjuncts like flaked oats to soften the mouthfeel of the beer;
mashing in at higher temperatures than traditionally utilized for an IPA;
diminishing or removing early-boil hop additions entirely and shifting the focus to obscene amounts of late-boil and post-boil hop additions (with whirlpooling a common tactic);
hop varietals generally veer toward the newer-school, with hugely fruit/tropical-forward Citra, Mosaic, Galaxy, Nelson (when it's actually obtainable), Amarillo, Simcoe, El Dorado, Equinox, Wakatu, Vic Secret, Wai-iti and others taking starring roles;
and dry-hopping under CO2 pressure and/or introducing dry-hopping (a technique of adding hops during fermentation to further enhance and maximize flavor and aroma) at non-traditional stages of the fermentation process to potentially disrupt yeast flocculation (London Ale and Vermont Ale are frequently used strains).
Northeast-Style IPAs are hazy—often to the point of being completely opaque—generally hugely aromatic; boast a soft, luscious mouthfeel; and feature indulgently robust citrusy and tropical fruit flavor profiles typically driven by newer hop varietals—and that in some cases see their flavors further amplified by the yeast strain chosen—that have led many in the beer world to start referring to this style of IPA as "juice" or being "juicy."
These IPAs are also almost always unfiltered to help ensure maximum flavor retention, with the haze stemming in part from haze-active proteins from the grain bill interacting with suspended yeast and increased hop polyphenol from late hop additions, often resulting in extremely turbid-looking beers, which are often jokingly (and lovingly) referred to as orange juice.
A note on Double Dry-Hopping

Dry-hopping as a technique was not created by the purveyors of the Northeast-Style, although the practice of double dry-hopping has become a defining calling card for many of the beers in this cohort. Double dry-hopping is, at its simplest, two distinctive rounds of dry-hopping a beer post-boil, a practice that typically further enhances aroma and flavor.

As if the base beers weren't preposterously hopped enough to begin with, double dry-hopped versions of Northeast-Style IPAs can feature more hops per barrel than during the boil, essentially yielding the equivalent of the base beer on steroids. This is particularly evident with Trillium's delicious flagship American Pale Ale, Fort Point, which is primarily hopped with Citra—one of the most citrusy, juicy and popular hop varietals on the planet. Fort Point is a delightful, perhaps even perfect beer, one that would almost certainly be the cream of any brewery's crop. Consider a perfect beer, and then try to conceive of somehow coaxing even more flavor out of that beer, and that still doesn't really begin to give you an idea of how unbelievably tasty the double dry-hopped version of Fort Point is.

Trillium produces double dry-hopped versions of many of its core lineup of beers, and Tree House also takes a similar approach with certain beers in its portfolio as well (Julius and Jjjulius, King Julius and King Jjjulius, for two). Double dry-hopping not only boosts aroma and flavor, but also tends to lend even more haze to the final product, and so if you see one of the so-called orange juice beers, there's a decent chance it's been double dry-hopped.
A Paradigm Shift
Historically the vast majority of brewery business plans have gone something like this: open a production brewery, amass as many draft accounts at bars as you can, and start packaging as soon as possible to get your product on the shelf at retail and in front of as many consumers as possible. If you were a brewpub, depending on your state's laws, maybe you sold a small fraction of draft beer to go on-site.
But selling bottles and cans to go at a brewery just wasn't part of most breweries' plans, in some cases due to Draconian alcohol laws—of which you could fill a book with—or in others perhaps just not wanting to be bothered with the hassle of being a brewer and a retailer. Many also probably simply didn't—and still don't— have the space to store and refrigerate excess packaged product for weeks at a time.
Things started to change as growlers—refillable glass containers that typically come in 64-oz. or 32-oz. sizes—began to grow in popularity in the second half of the 2000s. Many beer drinkers go through a learning curve where they eventually come to a realization that beer frequently tastes best when coming straight from the source as opposed to a bottle or can that may have been sitting on their local retailer's shelf for many months—not to mention the fact that breweries can only package so many of their offerings in the first place—and so today's ubiquity of growlers in hindsight can probably be looked at as something of an inevitability.
With that, fresh beer to-go became an increasingly significant component of a given brewery's sales mix, though few if any ever envisioned a day where they'd eliminate external accounts entirely and sell everything on-premises.
Therein lies one of the key components of a brewery like Tree House's trajectory: they do not sell a drop of beer outside their current facility in Monson. Literally, every single ounce of beer produced at the brewery in a given week is sold on site, and virtually all of it is sold out the week it is released during the brewery's limited retail hours (open only four days a week for a total of 19 hours). This may change next year, when Tree House opens its planned 45,000-sq.-ft. brewery in nearby Charlton, Massachusetts.
The above component is even more astonishing when considering the kind of volume Tree House is producing. While they are still extremely small in the grand scheme of brewing, an average week at Tree House yields roughly four canning runs, generally in the vicinity of 400-500 cases of 16-ounce cans per beer depending on yield. If we round to 500, that's 2,000 cases of beer a week (not including the draft beer they also sell to go in growlers), or 768,000 ounces of beer, or almost 200 barrels a week—right in line with the roughly 10,000 barrels a year Tree House says it produces.
The new Charlton brewery is expected to significantly increase Tree House's output, ideally lessening the challenges of sourcing quantities of their beers. As it currently stands, those making the visit to the Monson brewery are generally limited to 6-8 cans of whichever beer(s) they are offering that day, and with the beer moving as fast as it does, aren't even necessarily guaranteed that relatively small amount.
Tree House's model has set up something of a weekly self-perpetuating cycle: every week fans know four new canned beers will be released—although Tree House doesn't announce which ones until the day before or the day-of—and the beer is available in such relatively small quantities that some actually run the risk of making the drive out to Monson and potentially coming away with zero cans of beer. The mystery and limited nature of Tree House releases—combined of course with some of the tastiest beer in the world—has resulted in what has to be one of the most unique weekly rituals in the entire country.
To wit: can any other business on the planet claim to have thousands of its consumers descend upon one retail location—in many instances spending more than an hour one-way just to drive to it and also then frequently having to spend additional time waiting on line—and sell out of every salable item it produces in a span of four days? I'm fairly certain the answer is no.
Trillium has also adopted the on-premises-only model as well, having shifted its packaging for its hoppy beers from 750-ml glass bottles to the much-loved 16-oz can format, and to date moves all of its canned beer directly out of its two facilities in Boston and Canton. As Trillium continues to expand, it seems possible that package stores could eventually get the occasional shipment of Trillium cans (they used to send some of their bottles out to retail), but for now Trillium is also running with the on-premises-only sales model for its IPAs, and given how quickly the beers sell through and how often new beers come on to replace the ones that sell out, it seems to be doing remarkably well for them.
Lastly—and more on this below—the on-premises-only component is perhaps the only way breweries specializing in this type of beer can realistically sell it in the first place. Northeast-Style IPAs are inherently delicate and susceptible to pretty significant flavor variations with each passing day, and as such, it's pretty unlikely that a brewery could (or would) want to produce at enough volume where the beers would be stuck in the beer-supply-chain hell that is modern distributorship and not get to retail for weeks at a time. As such, the Northeast-Style IPA lover often has no choice but to make the pilgrimage to their favorite breweries if they want to obtain these kinds of beers without having to trade for them.
A note on On-Premises Sales Data

It's probably worth noting that brewery-only sales numbers aren't reflected in IRI data. With the BA estimating that 30% of craft brewing is on-site sales, this is perhaps why we haven't heard more about the explosive retail growth on-premises as a national storyline. So next time IRI data is released and it shows flat or declining growth in craft beer sales, keep in mind that it's not capturing what's clearly a rapidly growing segment of consumption. [UPDATE 10.05.2016: Per a new Good Beer Hunting story by Bryan Roth, "Brewers Association Chief Economist Bart Watson says about about 7% of craft beer sales now occur at the breweries that make that craft beer. As of May 2016, according to his estimates based on the data provided, brewery taproom sales were growing 15-20% annually, faster than the overall craft industry. By the end of this year, Watson projects on-site sales could reach 1% of total beer sales—a volume equivalent to the production of Boston Beer's Sam Adams line of beer."]
Yes We Most Certainly Can
Touched-on in the above is the vessel that has helped fuel much of this growth: the 16-ounce can. Many words have been spent outlining the benefits of aluminum over glass with regards to beer these days—though a quick rehash includes eliminating the possibility of being light-struck and minimizing risk of oxidization—and we're now at a point in American beer culture where it almost feels anachronistic to see a hop-forward beer packaged in a 12-ounce bottle.
A note on IPA freshness

Part of the considerable appeal of the Northeast-Style IPA is the previously mentioned extreme freshness of many of the beers. However, as we briefly touched on, many of these beers are not known for standing the test of time (in part due to the volatility of the hop compounds yielded by the hops introduced post-boil after the yeast has been pitched).

Whereas many national and regional craft breweries will stamp six-month-out best-by dates on their IPAs—a necessary evil given the nature of retail; though most who drink IPA will tell you that many IPAs don't hold their end of the flavor bargain up past the three-month mark, and several fare even more poorly than that, with some of the industry's most prized falling off considerably in the area of around 30 days from packaging—there's a general school of thought that most NEIPAs are in the prime drinking range between canning and one month. In my experience, I don't know that they necessarily fall off a cliff after one month, but some will definitely experience a tamping down in flavor intensity.
Another important aspect fueling the rise of these breweries is what some might consider the death of the flagship. Now, this isn't entirely accurate—both Trillium and Tree House brew beers they consider to be their flagships, notably Fort Point and Julius, for two. But, the sheer volume of their portfolios, between the aforementioned double dry-hopped variants and countless other beers featuring beautiful hop permutations, both breweries are consistently cranking out either new beers, or enough different beers that the average visitor to their breweries has an excellent chance of trying something new or something they haven't had in a while.
And so even with their beloved flagships, the sheer vastness of the variety offered by these breweries almost can't help but play into one of the growing trends in the greater craft beer industry, where choice and the desire to try whatever's new—and in today's craft beer world something new is out almost single day depending on your market—can trump loyalty to specific brands and beers.
As we've seen, high ratings, limited availability, hype, vessel and expectations all play a significant role in the explosive growth of this style and these breweries (and others) and also leads to what ends up being a bit of a self-fulfilling hype/excitement circle. Those that haven't had their beers often see very high scores on the web and read tales of difficulty in obtaining and the result of those factors means one almost has no choice but to savor the beers immensely due to acquisition costs in both time and price (hey, beers this hoppy ain't cheap to brew), and tell everyone they know how great the beers are. But the good news is that at the end of the day, the beers actually do end up being as great as you'd been told.
If I Can Make It There
I'd be remiss if I didn't address how this trend has played out in my hometown of New York City, which has seen its own beer scene go from zero to sixty in the last three years. And it's even more incredible to see how the trend has expanded well beyond the borders of the Northeast. While the breweries I'm about to mention don't all necessarily produce Northeast-Style IPAs in the vein outlined above, many of them do (or have started to after recognizing the intense consumer demand), or produce IPAs just as intensely flavorful that may not share the exact same characteristics as NEIPA but are just as in-demand locally.
A note on comprehensiveness

While I'd love to be as inclusive as possible, it's virtually impossible for one person to know of every brewery in the country brewing something close to the NEIPA style and/or packaging hoppy beers in cans, so if you don't see your favorite, please know it wasn't purposefully excluded and let us know who else should be in the conversation in the comments!
In NYC, Brooklyn's Other Half Brewing Co. has led the way on the on-premises can sale front, launching brewery-only can sales back in February of 2015. Every other Saturday in Carrol Gardens lines begin to form under the BQE hours in advance of the official 10:00 a.m. open time, as aspirants hope to be able to snag several cases worth (or however many cans they can get their hands on) of Other Half's hoppy masterpieces. A very, very tiny amount of cans go out to a few select retailers, but for the most part if you want to buy Other Half cans, you have to go to the brewery to do so.
Similarly, Other Half's Gowanus neighbors Threes Brewing debuted on-premises can sales this past summer, and to their credit substantially improved the process by implementing an online pre-order system to eliminate lines. In the paraphrased words of Threes' founders, "beer is supposed to be fun, not work."
Queens' Finback Brewery has also undertaken periodic on-premises can sales (though a small amount of their cans tend to make it out to retail); while The Bronx's Gun Hill Brewing Co., Long Island City's LIC Beer Project, Brooklyn's Greenpoint Beer & Ale. Co and newcomers Interboro Spirits & Ales have also all entered the "semi-regular on-premises 16-oz. can sale" game (though again, it's worth noting that while a smattering of the beers from these releases make it to some retailers, the best bet to ensure one doesn't have to run around to different stores all over the city to track these beers down is to head straight to the source). In fact, the latter took things to another level by offering 16-oz. cans to go on its opening day—a first for a New York City-based brewery; and while they haven't done an on-premises can sale (yet), fellow just-opened Brooklyn brewer Kings County Brewing Collective is already filling plenty of Crowlers, and one assumes cans can't be too far behind.
It's difficult to have a conversation about the NEIPA style without mentioning SingleCut Beersmiths, though they have bucked the trend and opted for bottles over cans. Finally, gypsy brewers Grimm Artisanal Ales haven't had a space of their own to call home (yet), but their hoppy beers—in 16-oz. cans, of course—have won the city's beer geeks over with soft, pillowy, juicy flavors evocative of the NEIPA style; and fellow itinerant brewer Third Rail Beer has also hit the market with 16-oz. cans of several of its popular beers (disclosure: I am a co-owner of Third Rail. The opinions shared in this piece are my own).
Outside the city, some of the best-regarded breweries in New York State have also begun periodic canning and again, selling all of their cans on-premises, including Peekskill Brewery, Rushing Duck Brewing Co. and Sand City Brewing Co. Even Captain Lawrence, a veritable granddaddy of the scene, experimented with an on-premises-only can release this past August. Prison City and The Brewery at Bacchus have received acclaim for their hoppy beers, although no cans yet. Additionally, industry legend Jeff "Chief" O'Neil, creator of the legendary Flower Power IPA and also formerly of Peekskill, has announced plans to eventually offer cans of hoppy beers from his just-opened brewery in Rockland County, Industrial Arts.
Moving past the great state of New York, the on-premises 16-oz. can craze has spread like wildfire, with Maine's excellent Bissell Bros. and Foundation Brewing selling most of their respective canned outputs at their breweries; Vermont's Fiddlehead taking a similar route; Connecticut's Beer'd Brewing, Back East Brewing, Steady Habit and gypsy Pioneer as well as Rhode Island up-and-comer Proclamation Ales having also staked their ground in the for-sale-at-brewery-only canned phenomenon; and of course, the aforementioned Alchemist—the original "travel hundreds of miles to buy beer on-premises" brewery—continues to sell a good portion of its 16-oz. tallboys out its brewhouse.
Visitors to New Jersey's beloved Carton Brewing can frequently walk home with four-packs of their favorite Carton tallboys (though some of Carton's cans do make it into distribution); fellow beloved NJ brewer Kane has also dipped its toe into the on-premises 16-oz. can arena; and Magnify Brewing has also stepped into those waters as well. The Garden State's Conclave Brewing and Tuckahoe Brewing have also started to make waves with some of their hoppy beers (no cans yet, though).
Just outside of Philadelphia there's Tired Hands Brewing Co. packaging, selling and selling out of its sought-after hoppy beers on a weekly basis at the brewery; Pennsylvania gypsy's SOLE Artisanal Ales has managed the nifty trick of selling their canned juicy IPAs at another brewery's facility.
Shifting further south the on-premises canning craze has taken hold in Maryland with RAR Brewing and Burley Oak making their names amongst the beer cognoscenti; The Veil, The Answer, Aslin and Triple Crossing (Crowlers) in Virginia; Trophy Brewing in North Carolina; and even down in Florida, Jupiter's Civil Society has taken the reins on brewery-only can releases. Marengo, Ohio's Hoof Hearted Brewing wears the turbidity of the NE-Style like a badge of honor, producing some of the murkiest yet still-intensely-flavorful beers in this entire cohort.
Outside the Eastern Time Zone, one of the most well-regarded breweries in the country—Decorah, Iowa's Toppling Goliath—has been canning its lovely pseudoSue APA, and also taken a page from the Trillium DDH playbook. There are some NE-Style purveyors in Colorado, including Odd 13, Fiction and Cerebral (the former has cans though none of these breweries appear to have gotten swept up in on-premises mania yet).
I haven't seen or heard about a ton of Northeast-Style takes in the Midwest outside of Hoof Hearted, but a discussion around hoppy beers in pounder cans really can't exclude Chicago's Pipeworks and Half Acre or the pride of Minnesota in Surly. Similarly, in the Southwest props are due to La Cumbre in New Mexico for being among the first to make a major splash with an IPA in 16-oz.-can form.
The west coast, while initially a bit slower to adopt the NEIPA style—likely because many of its breweries have experienced plenty of success without ever having to do so—has since taken off with it, as Portland's Great Notion has been Crowlering its Northeast-Style juicy concoctions; while reports from Torrance, California, claim that people are starting to line up at midnight the evening before for Monkish Brewing's every-other-weekend (though soon to be more frequent) canned DIPA and IPA releases—this from a brewery that famously said it would never brew an IPA! Monkish's fellow LA/Anaheim-area purveyors of hoppy goodness at Mumford Brewing, Noble Ale Works and Highland Park, as well as greater-LA-area up-and-comers Electric Brewing Co. and Kings Brewing are also brewing beers that they are specifically referring to as Northeast-Style IPAs on their menus, as well as the occasional brewery-only can release as well.
The greater San Francisco area's Cellarmaker, Fieldwork, Moonraker and Alvarado Street are also drawing notice for their NE-Style concoctions. I've also started to see hazy IPAs turn up in my Instagram from the epicenter of the West Coast-Style IPA, San Diego, from breweries like Abnormal, Pure and Half Door—even Modern Times Brewing Co., with a substantial presence at retail, has recognized the need to get the style into the hands of consumers as quickly as possible and begun doing periodic brewery-only can releases.
With all of this activity—and even if it does represent a small segment of the overall craft beer-drinking population—it was only a matter of time before the national-level craft breweries got wind of a substantial shift in the way people purchase and consume the top-selling style in the county. Though few larger brewers have actually tried to replicate it—probably because it's difficult if not impossible to successfully execute on this style at distribution-level scale—Stone deserves credit for at least being aware of shifting palates and producing a riff on the NEIPA with its Unfiltered version of Enjoy By.
(10.14.2016: Edited to Add additional breweries purportedly brewing in the NEIPA style:
California
New Glory Brewery
Track 7

Colorado
Weldwerks
Massachusetts
Exhibit 'A' Brewing Co.

Missouri
Narrow Gauge Brewing Co.
North Carolina
Heist Brewery
Pennsylvania
Brew Gentlemen
Funk Brewing Co.)
So What Does All of This Mean for Houston?
As a current resident of Houston I've been hoping to see beers in this style start turning up locally, but to the best of my knowledge the Northeast-Style IPA and on-premises can sale phenomenon hasn't really hit Houston—or even the State of Texas—yet.
Brash Brewing, which wisely opted for a brewpub license (wisely as you'll see below), has done occasional on-premises can sales, but the only hoppy beer it's canned thus far is its flagship APA EZ-7, which, while a very tasty beer, doesn't stoke the travel-great-distances-and-wait-on-line fires quite the same way as a hazy Double IPA. Austin's Pinthouse Pizza has also drawn notice for brewing some of the state's softer, juicier hoppy beers, though to-date have not canned anything yet. Relatively near-to-Houston Parish Brewing in Broussard, Louisiana (roughly a four-hour drive east) has received acclaim for some of its softer IPAs, though Parish would probably be the first to tell you that they're not brewing "NE-Style" (and they're also bottling instead of canning).
Several of the challenges for Texas breweries potentially interested in on-site sales stem from the many arcane beer laws on the books that fiercely protect the distribution tier of the brewing industry's three-tier system (brewer, distributor, retailer). We won't get into the weeds of the antiquities of that prohibition-era relic, but the important thing to know for our purposes is that unlike the other breweries previously mentioned, production breweries in the state of Texas aren't allowed to sell beer to go. At all. Not even growler fills. Patrons can visit production breweries and have a drink while there if there's a tasting room, but they are not allowed to leave with anything.
Helpfully, some of the laws were adjusted in a 2013 legislative session that gave breweries that designated themselves as brewpubs (as Brash has done) the ability to sell beer to go. This was a major victory although given how deeply pocketed the lobbying arm of big beer is, it unsurprisingly didn't come without concessions—in this case, capping the production limit for brewpubs at 10,000 barrels. Now, as we've seen earlier, 10,000 barrels is still a healthy amount of beer, but it's an amount that Tree House is ready to zoom past, and if Houston and Texas-based breweries are ever going to be able to make a serious go of having on-premises retail become a part their revenue mix, that 10k cap will likely have to be lifted.
That said, the on-premises component also requires a cultural shift as well. Right now most craft beer drinkers—not just in Texas, but across the country—are perfectly content to head to their local supermarket for their beer shopping. The consumers slightly more into their beer will seek out specialty bottle shops and growler-fill retail outlets. It takes a truly dedicated fanatic to drive however many miles to purchase beer at a brewery—beer that in some cases will require waiting on line to acquire, and also probably cost quite a bit more than what they can get at their neighborhood supermarket.
But when the beer is as exceptional, as fresh, and as unavailable at retail as the beers from Trillium, Tree House and others mentioned above is, one almost can't help but become desensitized to the fact that these beers are way more expensive to produce and therefore are priced accordingly. Additionally, the craft beer drinker's continually evolving palate may eventually lead them to pass up on the three-month-old IPA from a national craft brewery sitting in the supermarket cooler if they have the alternative of buying ultra-fresh beer directly from their favorite brewery in the most ideal delivery vehicle possible in the aluminum can.
And if and when that time comes, it'll be interesting to see if those cultural shifts affect industrial and retail real estate in Houston. While craft beer is a rapidly growing industry throughout the state of Texas, it's still just a tiny fraction of overall industrial and retail inventories.
Still, it's not difficult to envision a scenario where the laws continue to change in a more pro-brewery direction. And as more individuals chase their dream of opening a commercial brewery—Texas was 6th in the country in barrels of craft beer produced in 2015 and there don't appear to be any signs of slowing down—and take note of the retail success demonstrated by other breweries in the northeast and across the country, we may see a rapidly increasing number of industrial square footage occupied by breweries, while square footage dedicated to beer at the retail level potentially scales back as beer drinkers recognize the unmatched enjoyment derived from brewery-fresh beer.
Larry Koestler is a Northeast-Style IPA fiend (in case you couldn't tell) and a craft beer obsessive. You can follow him on Twitter and Instagram, and connect on BeerAdvocate.